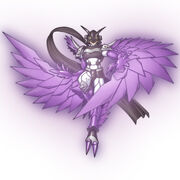 DarknessX
is the name of a collaborate experiment between
Jason
and
Dr. Ray Fugas
, which they devised as a way to empower the Bakugan of their allies and attempt to force evolution. The process involved bringing a Bakugan's hidden emotions to the surface, sending them into a more violent state. This first step is labeled
Primal Stage
, and the Bakugan currently in this stage are named "
Primal (Bakugan's Name)
", an example being Primal Terrorclaw.
The Primal Bakugan gain a small increase in power and perhaps an ability, but the Primal stage is extremely dangerous. During the Primal stage, a Bakugan, often encouraged by their owner, must suppress their inner darkness. Bakugan who are unable to do so remain as Primal Bakugan forever, as battle-craving weapons ruled by emotion. However, the lucky Bakugan who are able to suppress their emotions evolve a second time, to the X Stage, the best example being RavenoidX.
In the X stage, Bakugan have a rather large increase in power, and will almost certainly gain a new ability. Few Bakugan, however, have the willpower to reach the X stage, and often stay Primal. It is for this reason that Jason is reluctant to use this process.